Meet the Council
The Council's membership reflects the diversity of British Columbia, with Indigenous perspectives, genders, backgrounds and experiences from all parts of the province. Council members were selected based on their demonstrated history of working creatively and collaboratively for the advancement of wildlife and habitat. See Council's Terms of Reference for more information.
Appointments to the Council are for two-year periods and are extendable for up to two additional terms to a maximum of six years per person. Over time it is intended that appointment times will be staggered so that all members terms do not end at the same time.
Current Council Co-chairs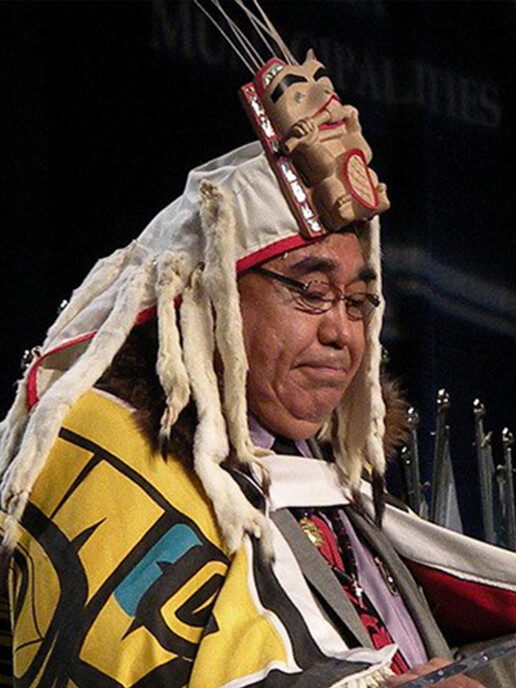 Simoogit Hleek (Chief Harry F. Nyce Sr.)
As one of the principal negotiators of the Nisga'a treaty in 1988, Harry Nyce was given the name of Sim'oogit Sagaw'een — Sim'oogit meaning chief and Sagaw'een meaning sharp tooth. His historical family name that belonged to a great hunter and fisherman. For the past year he has been honoured to serve on the First Nations – BC Wildlife and Habitat Conservation Forum and is currently the Director of Fisheries and Wildlife for the Nisga'a Lisims Government. He brings to the table a wealth of traditional knowledge and hard work ethic which has led him to work with various teams over a wide range of interest over the years, including engagement with BC wildlife issues for the Nisga'a Lisims Government. He studied Political Science at the University of British Columbia and is familiar with BC governance processes, working with many treaty and non-treaty First Nations, and stakeholders such as the BC Wildlife Federation.
Sim'oogit Sagaw'een has served on the board of the Regional District of Kitimat-Stikine for over 30 years and was the first Indigenous president of the Union of BC Municipalities. He was awarded the Queen Elizabeth II Golden Jubilee Medal for his outstanding community service.
Nancy L. Wilkin
As a foundation for her successful career within the Province's public sector, Nancy earned her Bachelor of Arts degree from the University of Victoria in Geography and Biology (with Distinction) and completed further graduate work from the University of Victoria in Resource Management. She became an Assistant Deputy Minister of Fish & Wildlife, Ecosystems and BC Parks, and also served as a Chief Negotiator for Treaty negotiations.
After retiring from the Province, Nancy took on the role of Executive in Residence at Royal Roads University and eventually their Director of Sustainability, working with the university for ten years. Her leadership helped the university to become carbon neutral, obtain a gold rating in sustainability, and be highlighted in the Province's report on climate change, which was profiled at the Paris climate change talks in 2015.
As a volunteer, Nancy has continued her service to the public by previously serving on the boards of the Child & Nature Alliance of Canada, the Nature Conservancy of Canada (BC Board), and the Bateman Foundation. She currently sits as a Director on the Ducks Unlimited Board for Canada, a Director on the Elder's Council for Parks in BC, and as a Treaty Commissioner on the Skagit Environmental Endowment Commission.
Nancy is married to Barry and they have two children, Jennifer and Dexter. Jennifer is married to Stephen Bailey and have two children, Dublin and Ollie.